From the information and data collected in the previous section, the Define phase aims to synthesise those learnings to define how tsunami risk is understood in my community, Tūranga.
I decided to use kanohi ki te kanohi semi-structured interviews as my method of approach to collect qualitative data that might be compared and contrasted against the quantitative data found in the Tsunami Awareness and Preparedness report (2015) (Dhellemmes, et al. 2016). Gray (2014) explains interviewing to be a skill of building rapport with interviewees while being objective by observing and listening in order to keep control of the interviews. Building rapport with my interview participants reflects back on the principle of whakapapa that underpins this research. Whakapapa connections were used to find potential interview participants. Ethical considerations were made to ensure my participants felt respected and trusted through the choice of interview location, the types of questions asked, the recording and collecting of information and consent of using information in my research.
Target audience
The target audience for this research originally included all of Te Tairāwhiti, but through conversations with Te Tairāwhiti Civil Defence, I found that smaller communities along the East Coast were seen as exemplars for self policing themselves in relation to preparing for tsunami (P. Stuart, personal communication, 2017). Rural communities are exposed to natural disasters more often than the urban communities because of their distance from central amenities. This means rural communities need to be prepared for events like road closures, flooding or being cut off from power due to severe storms, that had required them to take extra steps for being prepared for such events. This contrasts with the urban Tūranga community. People living in urban areas are heavily reliant on help to come from emergency services rather than preparing for an event on their own. This can be heard in the information collected in the interviews where one participant described: 
When we had the power cut, it was three days without power and it was crazy in town. The line up for Pak'N'Save was ridiculous, everyone was trying to get money out from the ATM because they weren't prepared — The petrol stations were all full coming into town, it was just crazy, you could see just how ill-prepared Gisborne was.

— Rāwiri Participant 2017
For this reason I chose to narrow the scope of my research to those people living in the urban community so that I could emphasise learning about the different levels of awareness and preparedness. In order to do this I sent out a survey through my own whakapapa channels, social media, email and with the help of Te Tairāwhiti Civil Defence. The survey was titled 'Local Hazards in your Local Area' as to not prompt tsunami as the initial discussion. The survey was used to collect an overarching view of my community's perspectives on natural hazards and was used to compile a list of participants for my semi-structured interviews. By using this method of selection I ensured a range of different variables like levels of awareness and preparedness, demographics, geographic locations and ethnicity was included in my interview range. 
Survey questions
The survey consisted of three natural hazard questions:
How much do you know about Natural Hazards that might occur in your local area?
How important is it for you to know about Natural Hazards in your local area?
How prepared are you if a Natural Hazard in your local area was to occur?
From the survey results see Figures (15, 16 & 17) a clear trend suggested that people felt a varied amount of knowledge and preparedness regarding natural hazards in their local area with need or interest to know more. From these results I selected 12 participants to interview with me in Tūranga.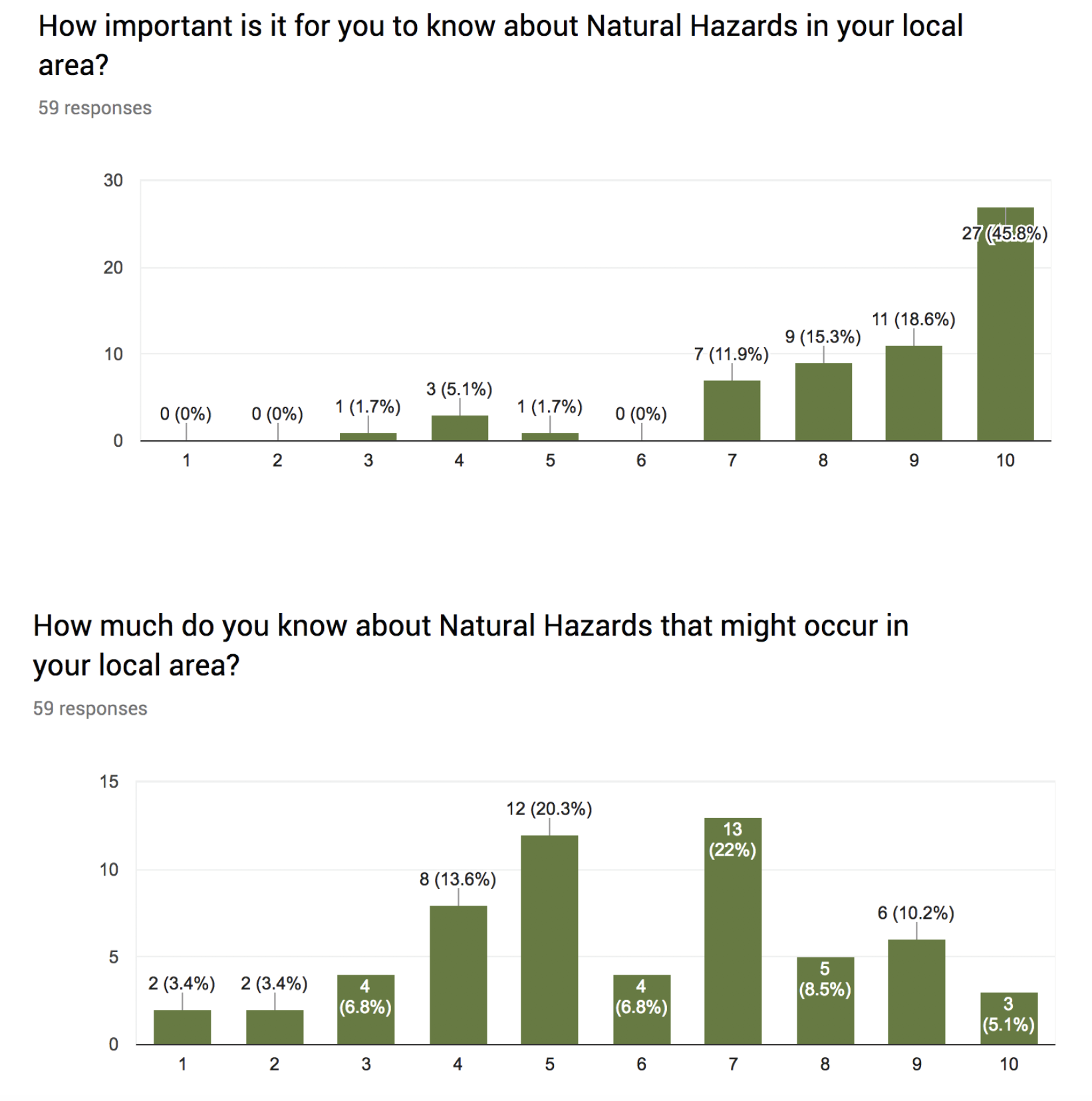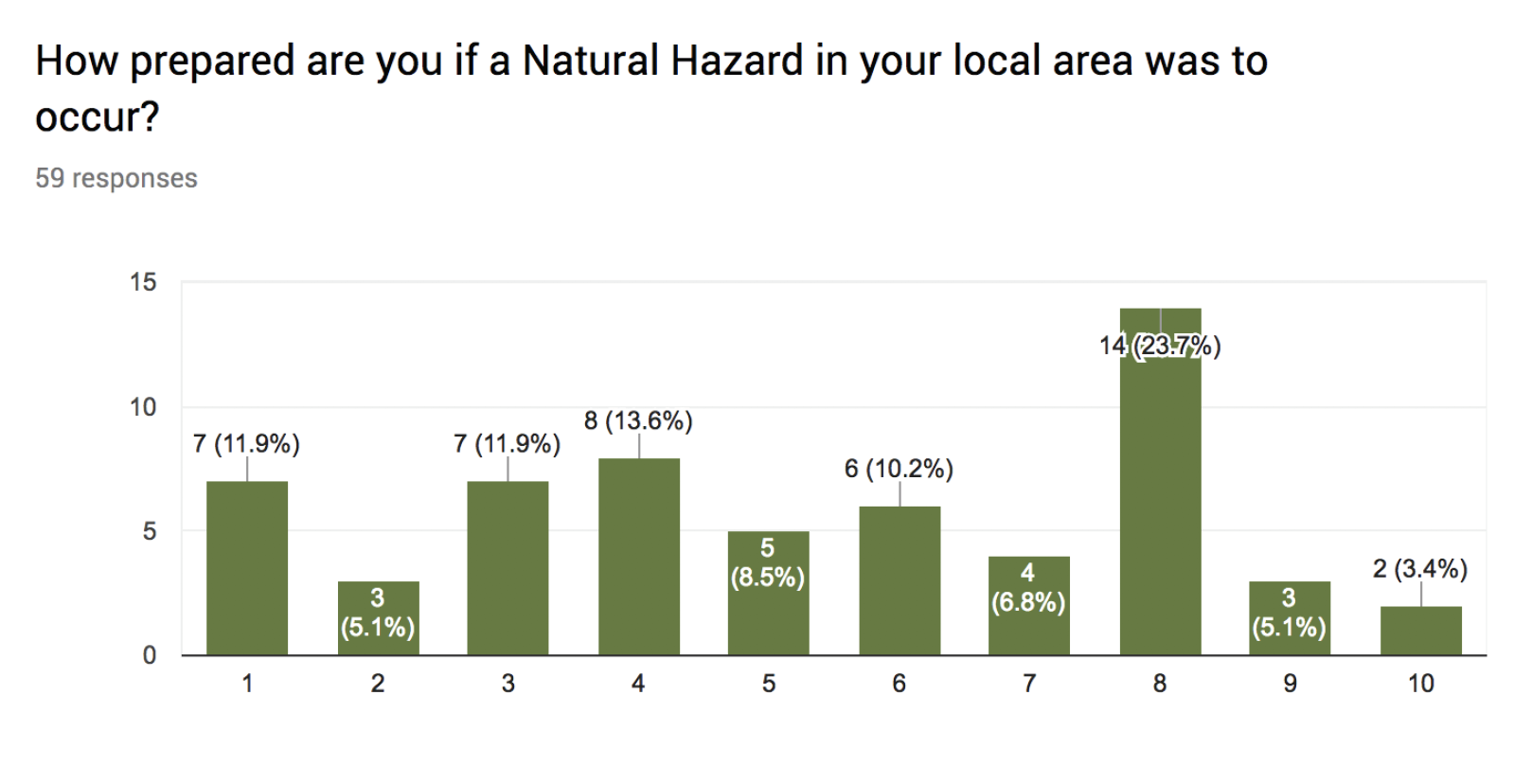 Semi-structured interviews
I planned my semi-structured interviews to be 60-90 minutes long and I held them at an outdoor café close to one of Tūranga's well known beaches (see Figure 19). I felt the location of my interviews was important when it came to providing a space that was comfortable and familiar for my interviewees but also had relevant meaning to my interview questions. The common themes that came out of the interviews were things like:
Low understanding between the three different types of tsunami 
Confusion between how strong an earthquake needs to be before evacuating for tsunami
Strong emphasis on waiting for a formal warning before evacuating —mostly from Ngati Porou Radio station, Te Tairāwhiti CDEM, or the 'siren'.
National messaging like the 'Long, strong, get gone' campaign did not resonate with respondents because it lacked context to Tūranga.
When presented with images of the campaign, participants wanted to know more about the effects tsunami could have on their own region and what they needed to do to prepare. They were more interested in local knowledge as opposed to general messages on the TV. Local narratives could provide them with their own way of understanding tsunami risk that felt more meaningful to them.
Local narratives provide a great way of understanding natural hazards to this specific community, land and place.
There is lack of urgency to react to tsunami warnings because of past warnings that have issued false reports.
These key themes marry up with the data collected in the Tsunami Awareness and Preparedness report 2015 (Dhellemmes, et al. 2016). A strong emphasis on the contextual location of Tūranga and the relationship people build with the whenua became evident in the following statements from these interviews:
In their oral histories tsunami has hit here and they have done something about it to save their people. The community used to live on the coast but they moved inland because of a tsunami. These are the stories that the old people tell. So we've got history within memory and when you've got that you have to listen to those stories and think about what do we need to do?

— Ashleigh, Interview participant, 2017
We live in a coastal community. Obviously the possibility of tsunami feels more real"

— Gina, Interview participant, 2017
Personas and problem statements

One way of analysing the information collected during my interviews was to create 'personas'. Personas are used to identify user types and acknowledges that every person has different needs, experiences and behaviours (Open Design kit, n.d). I used personas to present an overview of the different people living in Tūranga and what their needs and insights are toward tsunami risk in their community. By understanding these differences the personas helped me to identify with the people I am designing for, and also revealed key problem statements for each.
From the 12 interviews conducted, three personas were created to represent the Tūranga community overall. Reflecting on the Define phase, I have identified my key target audience and learnt about their needs and insights for communicating tsunami risk in their community. The personas provide a rich understanding of the people I am designing for which informed the process of developing ideas for tsunami communications contextual to Tūranganui-a-Kiwa.
Gina
Gina needs a way to feel empowered that she is making the right decisions for her family. But surprisingly, the connections that she keeps with her friends does not expose her the information that she needs. Needs and insights:
Equip me with practical tools to share/discuss with my friends and family
Tell me what I need to do and where to go in a natural disaster


Rāwiri
Rāwiri needs a way to feel enlightened about preparing for a natural disaster but unfortunately the exposure that he's had with tsunami awareness fails to relate to him personally which leaves him feeling disengaged. Needs and insights:
Visualise for me scenarios of how to evacuate and where to go
Interact with me in person through community events or school
Share with me new innovative ways of being prepared step by step via a digital platform


Ashleigh
Ashleigh needs a way to participate in tsunami education that is fun for her and her family as well as connecting her to people alike. But what puzzles her is that no one in her community wants to share their experiences and she worries if people know what to do. Needs and insights:
Educate me and my children about natural disaster information in a fun interactive environment
Connect me with people in my community who are interested in natural hazard preparedness
Explain/Involve me in how you are going to help people in my community prepare and plan.